It's been a while since I've reported on Sam's diet - 24 days to be precise. She's been on her new prescription diet food the entire time and we are finally starting to see a difference. She is walking better and has even started jumping up on things more.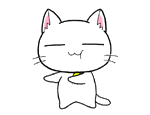 Before I weighed her, I was hoping for a half a pound weight loss, but she exceeded even that! She's lost 0.7 lbs in the last 3 and a half weeks. She had also just finished eating when I weighed her. Yippee! I'm so happy to see so much progress right now in both her weight and her well-being. It's worth getting up at 2:30 every morning to feed her.
She's now starting to develop bags of skin around her elbows. You know how the arms bag when you put on a sweater that's too big for you and push up the sleeves? That's kind of what she looks like. Not the most attractive thing, but it doesn't seem to bother her.
She's happier and that makes me happy. I'm also finding that I don't need to give her "happy" medicine as often. She doesn't appear to be in much if any pain right now - although I know that cats can be very stoic when it comes to that. She's still got at least another couple of pounds to lose, but I'm so encouraged by her progress so far.
So as of today, Sam's new stats are...
Starting Weight - 17.9 lbs
Target Weight - less than 14 lbs
Last Weigh-in - 17.0 lbs
Current Weight - 16.3 lbs
Net loss - 0.7 lbs
Total Weight Lost - 1.6 lbs
Until later...
"According to your faith will it be done to you"
Matthew 9:29 (NIV)